November 26, 2017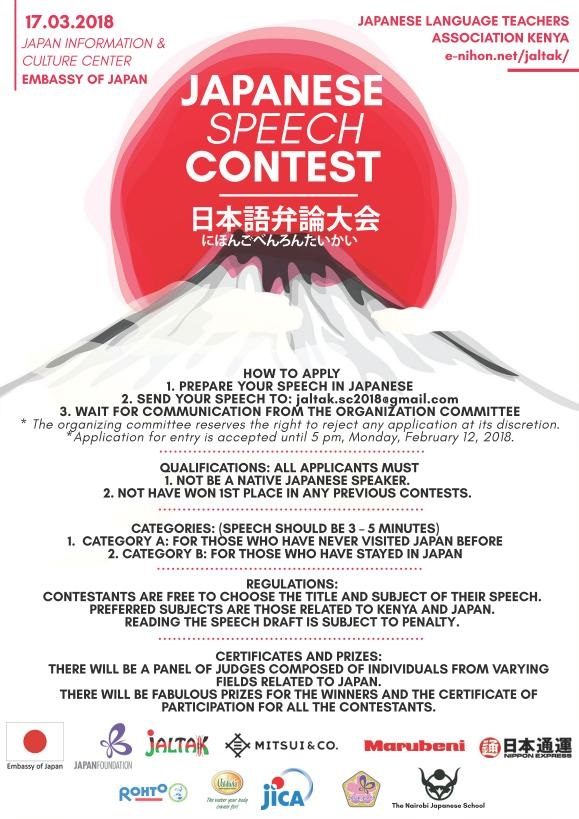 Japanese Language Speech Contest 2018
Date : 17th Saturday, March 2018
Venue : JICC, Embassy of Japan in Kenya
HOW TO APPLY
1) PREPARE YOUR SPEECH IN JAPANESE
* Speech should be 3 – 5 minutes. Speeches that are too long or too short will be penalised.
2) SEND YOUR SPEECH TO: jaltak.sc2018@gmail.com
* Make sure to write your full name, occupation, age, telephone number, e-mail address, past experience of traveling to Japan, and time taken to learn Japanese.
3) WAIT FOR COMMUNICATION FROM THE ORGANIZATION COMMITTEE
* The organizing committee reserves the right to reject any application at its discretion.
Application for entry is accepted until 5 pm, Monday, February 12, 2018.
Qualifications:
All applicants must
1) not be a native Japanese speaker.
2) not have won 1st place in any previous contests.
Categories:
1) CATEGORY A: For those who have never visited Japan before.
2) CATEGORY B: For those who have stayed in Japan.
Regulations:
Contestants are free to choose the title and subject of their speech.
Preferred subjects are those related to Kenya and Japan.
Reading the speech draft is subject to penalty.
Certificates and Prizes:
There will be a panel of judges composed of individuals from varying fields related to Japan.
There will be fabulous prizes for the winners and the certificate of participation for all the contestants.